To celebrate the "Star Wars Day" 2021, I collect 11 games (on various media and platforms) that I consider essential experiences in the "Galaxy Far, Far Away". For most of the 1980s and 90s, with no movie coming out anytime soon, games were the only medium where people could still live stories in the Star Wars universe. Lucasarts, the game division of Lucasfilm (recently resurrected as "Lucasfilm Games" by Disney), became since then a synonym of groundbreaking and innovative masterpieces ("Monkey Island", anyone?).
This is how the saga survived, as a cross-media experience (before the term became popular). And it was probably the reason for such an explosion of creativity. People dedicated so much energy and passion to these titles because they (we) were hungry for them. And what a blast it was!
I included games from different platforms: role-playing games, boardgames, miniatures, videogames. Also LEGO is there (although in the digital form). I don't know how (and I don't want to) prioritize them, so I organized them strictly in chronological order.
Anyway, this is my list, they are all either games I own or played directly, or that I know well enough to recommend. Do you agree? Disagree? Let me know in the comment sections and let's discuss. And most importantly, let's be civil about it. It's ok to disagree.
Star Wars The Roleplaying Game (1987), West End Games
Originally published by West End Games in 1987, this was the incredible machine that would allow to generate infinite stories set in the SW universe at a time when it seemed the saga was over. A fantastic collector edition to commemorate the 30th anniversary was recently printed (I have it!), and I certainly recommend it. The system was a bit heavy, using 6-side dices (and lots of them) for everything, but it expanded the lore in a way never seen before. From the website: "These books were sent to Timothy Zahn as references when he started to develop Grand Admiral Thrawn and his Thrawn trilogy. They introduced materials that were later adopted into Star Wars canon, such as the names of alien races like the Twi'lek, Rodians, and Quarren. They even inspired members of the Lucasfilm Story Group as they worked on their writers' bible". Other editions exist, like the 2000s "Star Wars Saga Edition" based on the d20 system, equally well made and with fantastic illustrations, but this was the original stuff.
Tie Fighter (1994), Lucasarts
After the massive success of X-Wing, this sequel caught everybody by surprise with a simple idea: what if this time we see the story from the bad guy's perspective? Essentially a space combat simulator, it provided a very good storyline, great missions and action, all the original soundtrack and an interesting moral question about how was life as a pilot of the fragile, expendable cockpit of an imperial fighter. Sure, the graphics show their time and make it an experience for retro-players, but the gameplay has aged like good wine. Nevertheless, blowing up rebel ships still feels incredibly satisfying, with a curious "now it's your turn!" guilty pleasure. It is currently available on GOG in its Special Edition.
the Jedi Knight series (1995-2003), Lucasarts
This was the saga of Kyle Katarn, a former Imperial stormtrooper who defects to the rebels, learns the ways of the Force, gets to meet Luke Skywalker and opens his own Jedi Academy. The games were of different but generally great quality (my favorite is Jedi Knight II: Jedi Outcast) and went from the "Doom meets Star Wars" of the first Dark Forces to a more layered experience where the player could choose to side with the light or the dark side of the Force. The emphasis is always on first action shooting and fighting, but swinging a lightsaber (at least at the time) had never been so much fun.
Knights of The Old Republic (2003), BioWare
This is A LOT OF PEOPLE's favorite, and for a reason. Developed by the creative geniuses at Bioware (who, after Baldur's Gate, were about to make again videogame history – and later moved on to Mass Effect) this is at the same time one of the best role-playing videogame and some of the best Star Wars storytelling at the same time, period. The game spins around the story of Darth Revan (no spoilers) and is literally loaded with a cast of memorable characters (above all HK-47, a killer droid who loves his job a bit too much), decisions that would alter the fate of an entire galaxy and breath-taking plot twists, this game is galactic stuff at its finest, a must-have experience to explore the "expanded universe" (ops, "legends") and so much lore that originated there. Make sure to check out the sequel too, which may not be as perfect due to a rushed production (but it's possible to patch it, if you know how), but it still delivers some of the same quality and intensity.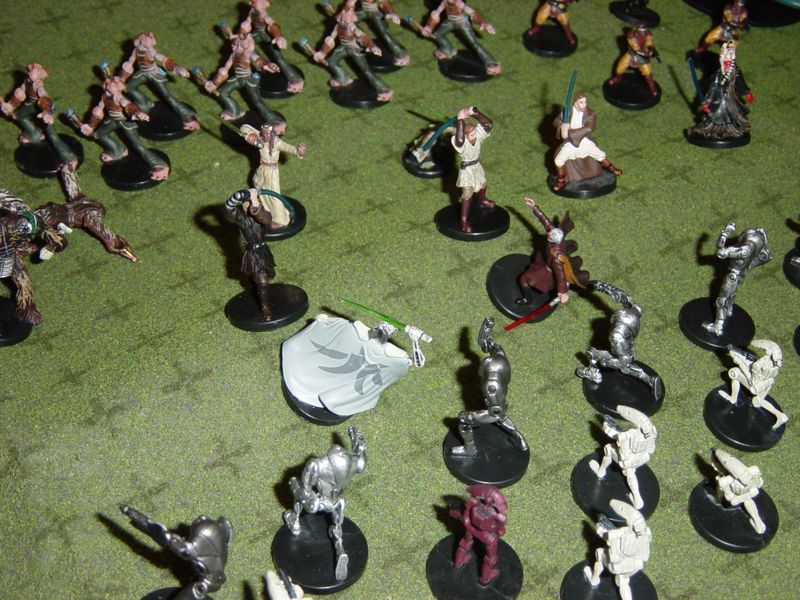 Star Wars Miniatures (2004-2010), Wizards of the Coast
Not to be confused with the similar "Starship Battles", this is a miniatures tabletop game based on the expanded universe. Each miniature was paired to a card with a variable rarity level, so it worked also as a collectible card game. The game was based on a simplified d20 system (attack/defense) and players could assemble teams of figures and pitch them in various scenarios or battles. Many different settings and themes were published, so it was possible to assemble teams from different factions (Rebels or Empire), clone teams, Jedi vs Sith, or just enjoy a free-for-all scenario throwing everything in. The funniest part was the insane number of figures, and having doubles didn't matter so much when building armies of droids or clones. Discontinued in 2010, it is now for collectors only but its legacy survives in the "Legion" game.
Battlefront II (2005), Pandemic Studios – or – (2017), EA DICE
Now this was a hard one to crack. The game has different incarnations exactly with the same name, but different publishers (and time of release). The first from 2005 was a huge success and brought some of the best gameplay, maps and character and level design in the genre. Think a gigantic combat simulator mixing Jedis and soldiers, droids and Sith Lords, where it was possible to jump into vehicles or starfighters and continue the action there. Its community is still alive and kicking, so if you want a taste of the old classic, definitely go ahead (here on GOG for example).
But if a newer experience is what you are after, then the 2017 version developed by EA is just what the doctor prescribes. This game had a very troubled start due to a big controversy related to its loot box system (a little too similar to real-world gambling, according to… many governments and organizations). The developers reacted by taking the aspect completely out of the game, and they kept developing it until its current "Celebration Edition" which includes all the content, instantly unlocked. It features content from the original, prequel and sequel trilogies, a short (but well made) single player campaign, and some of the best multiplayer Star Wars tactical battles one can ever wish for.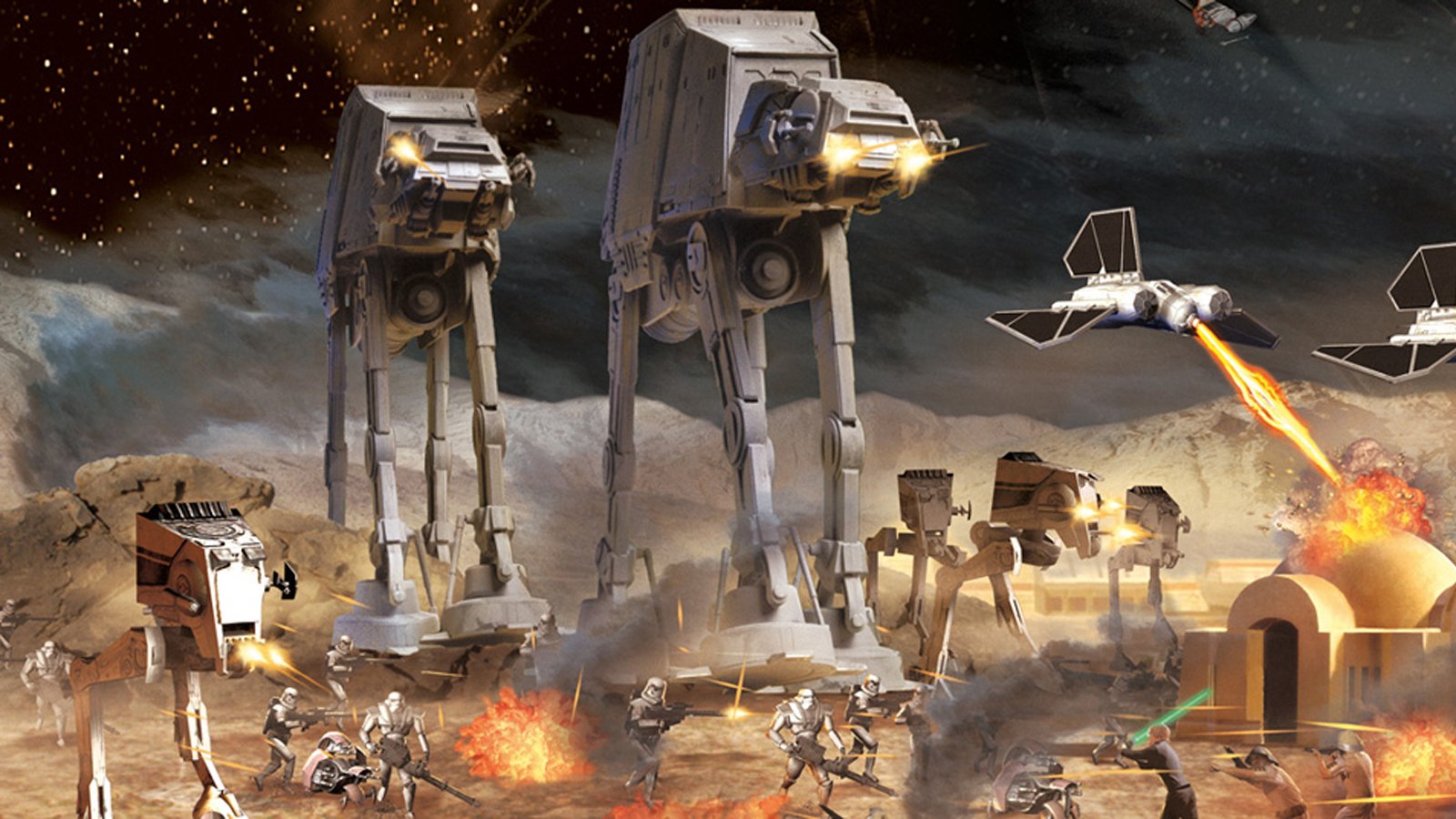 Empire at War (2006), Petroglyph games
I personally loved this one. A sweeping strategy game that put you in control of the Empire or the Rebellion (and later the Corruption, a new "grey" faction) combining strategy on a galactic level and detailed real-time naval or land battles once a planetary invasion begun. The game included some resource management, but had an emphasis on action and battles. You get to control the most iconic characters and you can build all those iconic, technological terrors (hint: one is no moon) that make one whisper "I have a bad feeling about this". One could say it was a bit (much) like Starcraft, but with Death Stars and AT-ATs – so I was not one to complain.
Lego Star Wars – the Complete Saga (2009), Traveller's Tales
What is better than LEGO? LEGO and Star Wars! This lets you move seamlessly through the first six movies of the saga, and don't let that LEGO fool you, this is an experience targeted to a wider audience. The gameplay is always fresh and fun – even better with a friend – and it includes a lot of faithful callbacks to the source material which will keep even diehard fans entertained. It promises over 160 playable characters, all the original soundtracks, settings and sequences, plus the (almost) authentic pleasure of playing with construction bricks and studs. Minus, you don't have to put them back in the box at the end. And if you ask me, that's a win-win.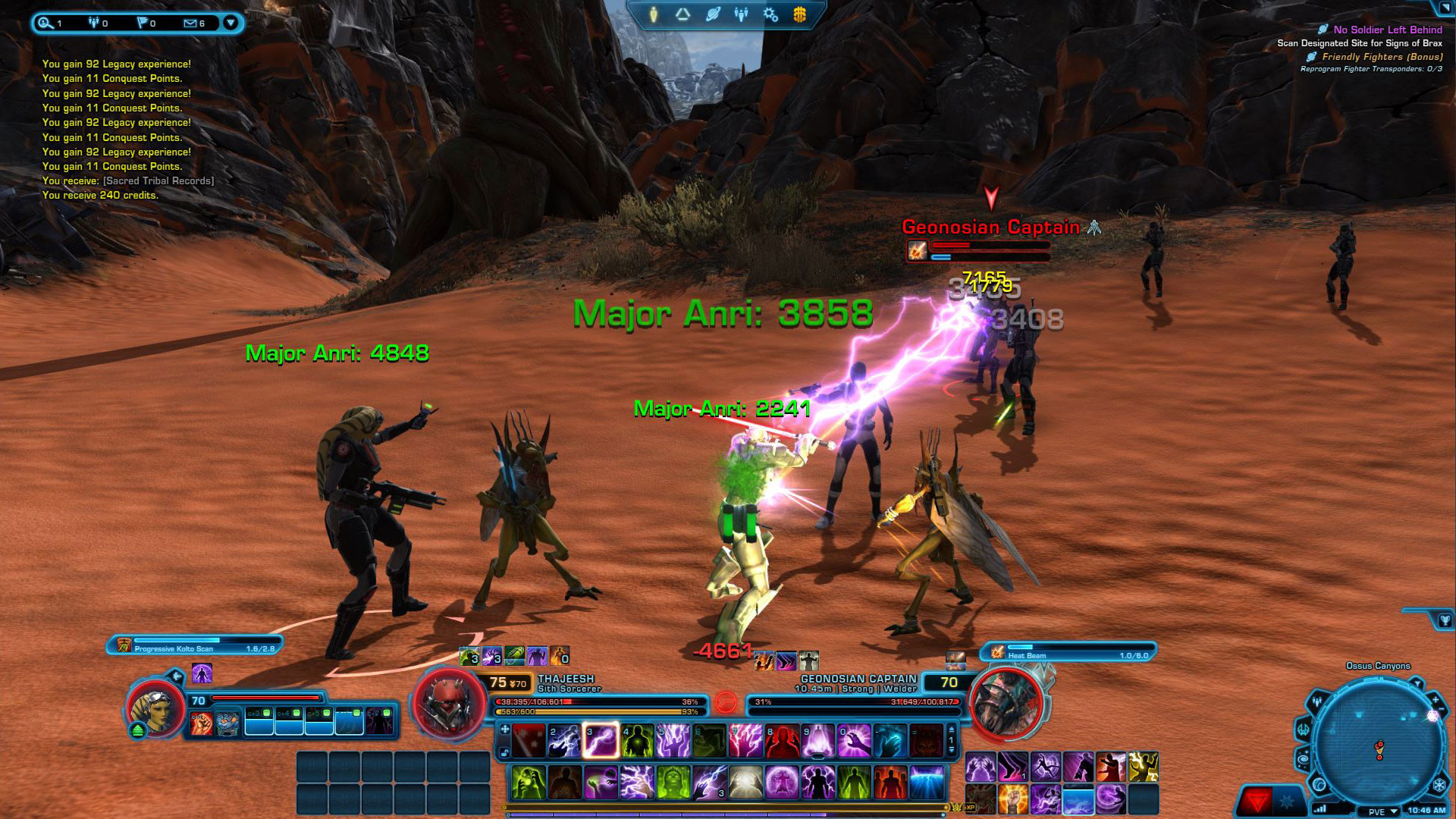 Star Wars: The Old Republic (2011), BioWare
This is the long-awaited massive multiplayer online game set in the Star Wars universe (at the times of the Old Republic, hence the name). Massive Multiplayer means that you will be immersed in the game world together with countless other players, each busy doing their own things. Luckily, the focus here is on storytelling and on developing your own story arcs, and with 8 super iconic character classes ranging from the bounty hunter, imperial spy, Jedi and Sith (with 2 classes each), troopers and smugglers. All characters (in both versions, male and female) are completely voice acted, for a total of thousands and thousands of hours of cinematic content, which make this a game one can play literally forever. Of course, MMO also means this is a game that requires a lot of time… or money, to unlock the coolest stuff. Its basic version is completely free to play, and the community is still well alive, with updates coming out all the time.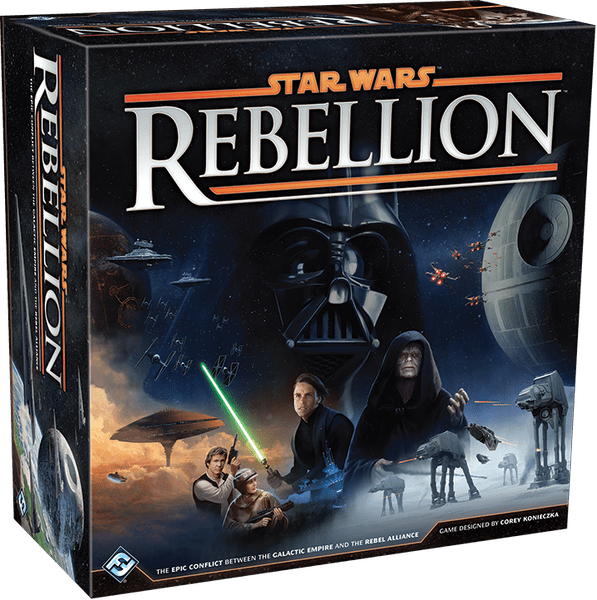 Star Wars Rebellion (2016), Fantasy Flight Games
This massive, award-winning boardgame will not be everybody's cup of tea, but it is certainly an experience, and worth a mention here. The player takes the lead either of the Empire or the Rebel Alliance, controlling starships, troops and all the iconic heroes in an asymmetric race competing for the Galaxy. With more than 150 miniatures and a gigantic map, this is an experience for two to four very dedicated players that can easily take an entire night. But if you love Star Wars and boardgames, this sounds like just the perfect alternative to yet another movie marathon. Its expansion, Rise of the Empire, is inspired by the excellent story of Rogue One (the movie) and includes new leaders, missions, miniatures and cards.
Vader Immortal (2019), Disney Electronic Content
This is admittedly not for everyone but I included it in the list because it represents a medium on its own and this could be the future of gaming. Developed exclusively for virtual-reality platforms (so the Oculus series and Playstation VR), it didn't reach oceanic masses but it delivered a unique experience. Lightsaber fights and other VR content are really impressive – even though the game experience may feel overall limited. I have the impression this is just a beginning.